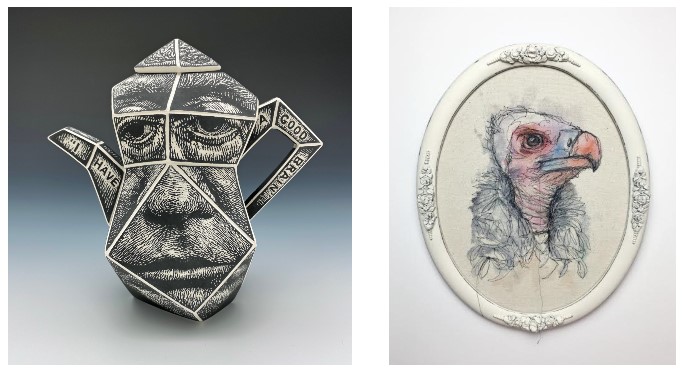 Working Together, The Art & Design of Chris Theiss and Kristin Loffer Theiss
"Working Together", The Art & Design of Chris Theiss and Kristin Loffer Theiss
April 5 through May 6, 2021
From the moment that Kristin and Chris first met, the creative sparks began to fly. They married and began a collaboration that has continued to develop and grow.
This exhibit presents examples of both the work that they consciously design together, focusing on their unique skill sets, as well as work that they both consider personal and more self-directed.
One-of-a-kind fine artworks consisting of thread and watercolor animal drawings on canvas as well as faceted figurative porcelain teapots. In addition to these, there will also be many examples of silkscreen printed textiles and cast porcelain vessels that are products of the design business that Kristin and Chris have formed.
For more information email gallerydirector@columbiabasin.edu