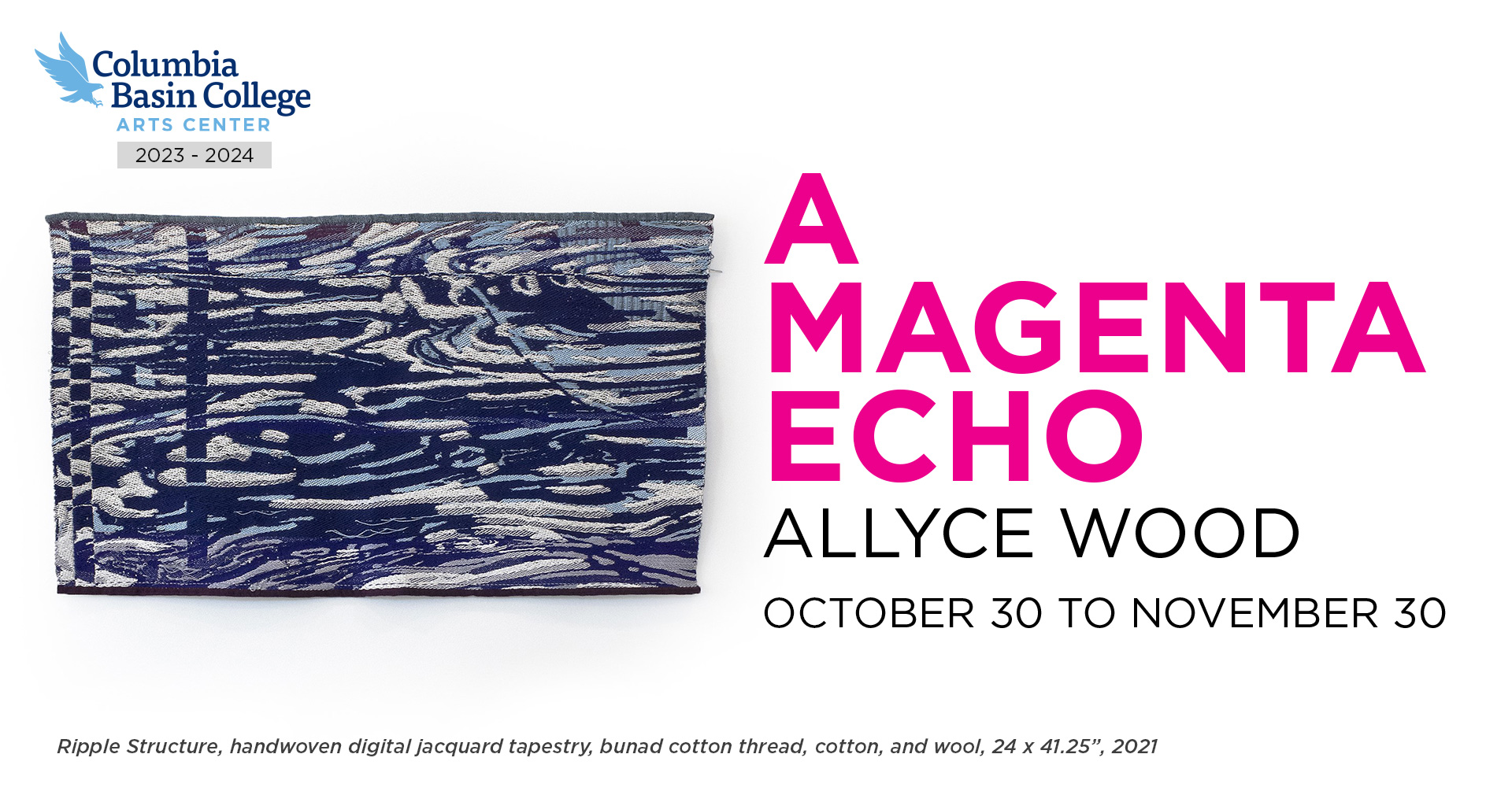 EXHIBIT: A Magenta Echo
The Esvelt Gallery is honored to present A Magenta Echo by Allyce Wood, the exhibition runs from October 30 – November 30, 2023, with an artist lecture on November 15, 2023, at 3:00pm in P201/Zoom with a reception to follow at the gallery.
Allyce Wood is an artist based in Seattle, WA. Wood received her MFA from the Kunsthøgskolen i Oslo in Norway (2018), furthering her textile studies at the Universitetet i Bergen (2017 & 2018), through a mentorship with Hilde Huan Johnson (2018), and assisting artists Eline Mugaas and Elise Storsveen (2016-2019). Wood has had the honor of being artist in residence at the Praxis Fiber Workshop in Cleveland, Ohio (2021), the Icelandic Textile Center, Blönduós, Iceland (2019), and the Mary Olson Farm (2023).
Wood has exhibited her work locally and internationally for over ten years. Recent solo exhibitions include 'Shirtsleeves & Ribbons' at the White River Valley Museum, 'Soft Systems' at The Vestibule (2022), and 'Daylights' with Shunpike Storefronts (2022). She is the gracious recipient of the Art Projects: Individuals program (4Culture 2022),1-year Artist Grant (Bildende Kunstneres Hjelpefond 2020), the Diversestipend For Nyutdannede Kunstnere (Arts Council Norway 2018) and the GAP Grant (Artist Trust 2014).
'A Magenta Echo' is an examination of form, of place, of tapestry. By using digital jacquard weaving, a medium that balances handwork and computer programming, artist Allyce Wood draws together heritage textile techniques with her own language of aesthetics.
Through the use of digital and handmade processes, artist Allyce Wood makes textiles with a focus on digital Jacquard tapestries. To her, the loom acts as a mediator between traditional and computerized technologies, offering a way to combine online and offline experiences into images in cotton and wool. As a collector of technologies and threads, Wood weaves with deep consideration for her materials and the generations of weavers who came before and will come after. 'A Magenta Echo' showcases tapestries that demonstrate her passion for systems and information-sharing–these being cornerstones of the weaving community as well as person-to-person connections.
This exhibition brims with lush textures, hand-dyed yarns, and evocative images. Flowers, water systems, and ribbons are woven within the structures of her cloth to represent the intricacy of connection and the flowing ways we bond with one another over time. The intrinsic warmth of these pieces contributes to a sense of familiarity and optimism.