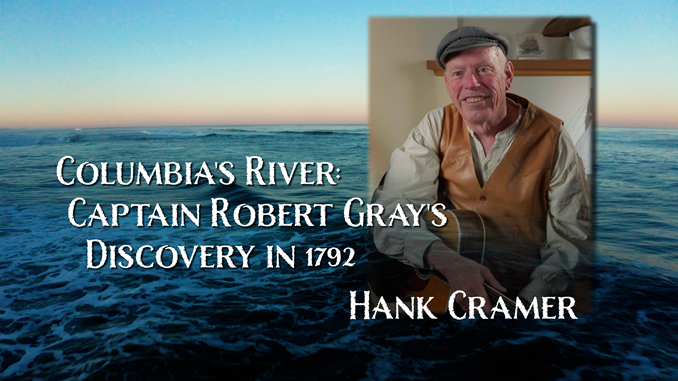 Lecture: Columbia's River: The Story of Robert Gray
The river we know today as the Columbia is the great waterway of the Pacific Northwest. Although native tribes have lived along its banks for thousands of years, it remained a mystery to Euro-American explorers. Spanish and British sea captains – Heceta, Vancouver, and Meares — sought it unsuccessfully, hoping to lay claim to its ownership and to unlock its trade potential. Robert Gray, a young American sea captain, succeeded where others had failed. Relying on his instincts, seamanship, and hints from Native Americans, he discovered the river's mouth on May 11, 1792 and boldly sailed his small vessel over its dangerous bars and into the river itself. He named the river for his ship – "Columbia's River" – and that name endures today.
Join us as Hank Cramer presents Columbia's River: The Story of Robert Gray on Thursday, April 15 at 7PM via Zoom. Hosted by Three Rivers Folklife Society.
Hank Cramer is a traveling folk singer and historian based in Winthrop, WA. Hank performs annually at Richland's Tumbleweed Music Festival and has presented programs of history and music for Humanities Washington for over the past ten years.
If you want to be on the invitation list for the presentation send an email to Jim Honeyman at jhoneyman2b@charter.net.